Resources Overview
Most Resources are produced by the main city building line, the map above shows the various locations for the main campaign.
When a region produces a resource, it also has special buildings that can be built in that region. These buildings usually either provide more of the resource or better trade for that resource. Some other types of options also include improved weapons/armor and other choices for certain resources.
Some Resources are special Resource Chains in that they are only produced in limited locations but can then be spread by other building types. These include Warhorses, Salt and Slaves. Once you acquire these through trade or conquest, you can build special buildings to take advantage of these and produce more or store them for supply purposes in the case of Salt.
DLC Campaign Resource Maps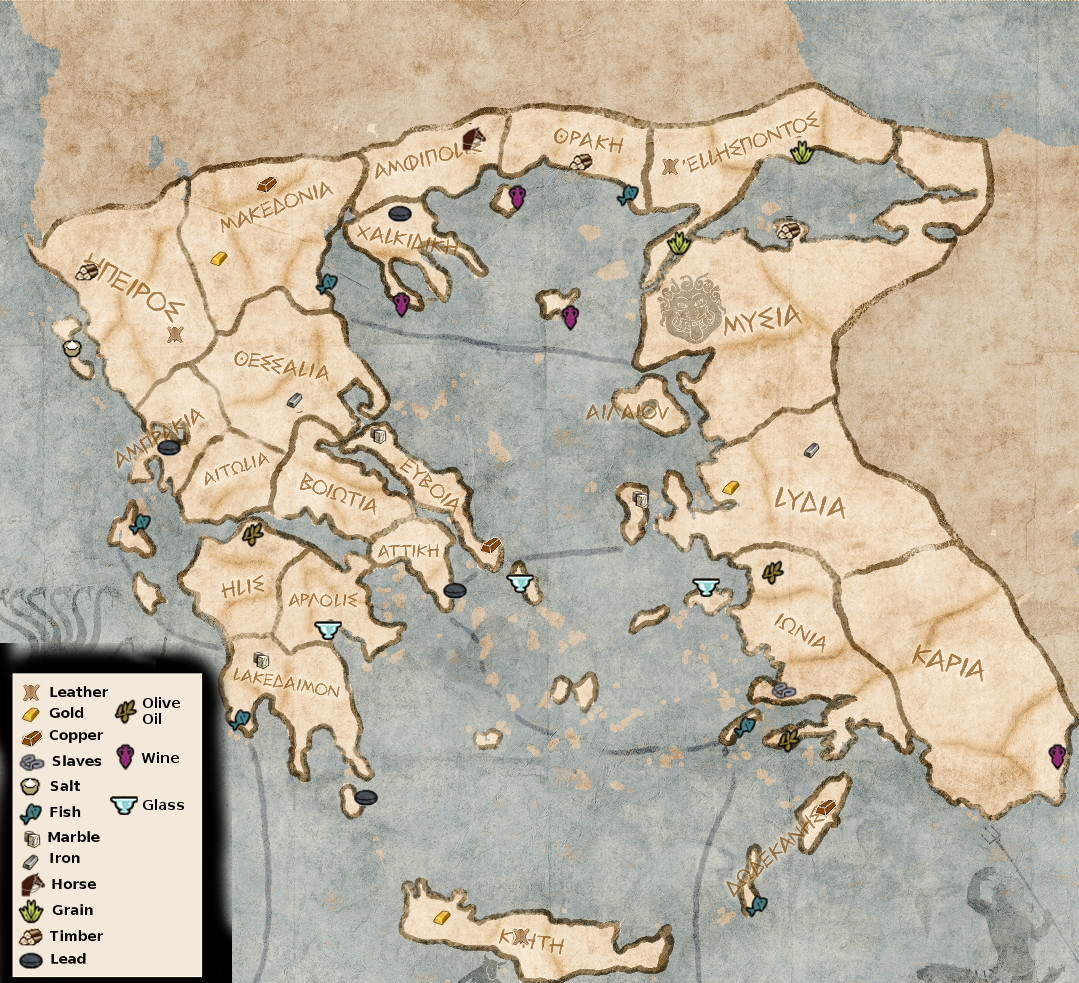 Buildings – Resources Required
You must acquire these resources by either trade or conquest in order to build the listed buildings.

Wine
Barbarian City Centre – Mead Hall (4)
Eastern City Centre – Eastern Polo Pitch (3), Eastern Major Field (4)
Hellenic City Centre- Odeon (3), Hippodrome (4), Wine Shop (3), Wine Market (4)
Roman City Centre – Circus (4), Wine Trader (2), Wine Shop (3), Forum Vinarium (4)
Roman Port – Emporium (4)
Timber
Barbarian Artisans – Woodworker (2), Carpenter (3), Builder's Hall (4)
Barbarian Port – Raider's Port (4)
Barbarian Religious – Grove of Wodanaz (2), Shrine of Wodanaz (3)
Eastern Military Buff – Range (2), Marksmen's Range (3), Craftsman's Quarters (2), Siege Workshop (3)
Eastern Port – Drydock (4)
Hellenic Military Buff – Target Stands (3), Marksmen's Range (4), Assault Course (3), Ephebic College (4), Practice Fortifications (3), Stratopedon (4)
Hellenic Military Main – Field Engineer's Workshop (2), Siege Engineer's Workshop (3), Skirmisher Camp (3)
Hellenic Port – Military Port (4), Neosoikoi (4)
Roman Military Buff – Target Stands (3), Doctor Saggitariorum (4), Assault Course (3), Basilica Exercitoria (4), Praetoria (3), Armidoctor (4)
Roman Military – Field Engineer's Workshop (2), Siege Engineer's Workshop (3)
Roman Port – Portus Classis (4), Coastal Patrol (4)
Silk
Eastern City Centre – Eastern Spice Market (3), Eastern Spice Bazaar (4)
Eastern Port – Trading Port (3), Seaside Market (4)
Hellenic City Centre – Mouseion (3), Akademia (4)
Slaves
Barbarian City Centre – Slave Trader (2), Slave Market (3)
Barbarian Religious – Nemeton (5), Oak of Teiwaz (5), Kurgan Field (5)
Eastern City Centre – Eastern Slave Trader (2), Eastern Slave Auctioneer (3)
Hellenic City Centre – Great Library (5), Slave Trader (2), Slave Market (3)
Hellenic Military Buff – Monument of Leonidas (5)
Hellenic Religious – Acropolis (5), Oracle of Dodona (5), Paradise of Daphne (5), Ptolemaic Temple Complex (5), Tophet (5), Hieron ton Megalon Theon (5)
Roman City Centre – Circus Maximus (5), Colosseum (5), Slave Trader (2), Graecostadium (3)
Roman Religious – Pantheon (5)
Roman Sanitation – Cloaca Maxima (5)
Salt
Barbarian Artisans – Brine Distiller (2), Salt Kiln (3), Salt Workshop (4)
Barbarian City Centre – Souterrain (3), Smokehouse (4), Great Fair (4)
Barbarian Enclosure – Potter's Workshop (4)
Eastern City Centre – Eastern Caravanserai (4), Supply Warehouse (3), Supply Complex (4)
Hellenic City Centre – Deigma (4), Pandocheion (4), Supply Warehouse (3), Supply Complex (4)
Hellenic Outskirts – Amphorae Factory (4)
Roman City Centre – Slaughterhouse (3), Forum Boarium (4), Forum Cuppedinis (4), Supply Warehouse (3), Supply Complex (4)
Olive Oil
Roman City Centre – Taberna (3)
Roman Port – Trading Port (3)
Marble
All Quarry – Monumental Architect (4)
Barbarian City Centre – Warlord's Hold (3), Great Hall (4)
Hellenic Region – All Major and Minor Cities Level 4 (other than horse/salt resource nodes)
Hellenic Religious – Royal Mausoleion (4)
Roman Region – All Major and Minor Cities Level 4 (other than horse/salt resource nodes)
Livestock
Barbarian Enclosure – Royal Camp (4)
Barbarian Religious – All Temples Level 4
Eastern Religious – Royal Mausoleum (4), Astudan (4), Temple of Great Fires (4)
Hellenic Religious – All Temples Level 4 other than Royal Mausoleion
Roman City Centre – Cattle Trader (2)
Roman Religious – All Temples Level 4
Leather
Barbarian Enclosure – Bard's Grove (3), Bardic Circle (4)
Lead
Barbarian Region – All Major and Minor Cities Level 4 (other than horse/salt resource nodes)
Eastern Outskirts – All Outskirts Level 3 and 4 (excluding Farms)
Hellenic Outskirts – Brick Baker (3), Brickworks (4)
Hellenic Sanitation – Gymnasion (4), Arboretum (4), Alytarches (4), Great Cistern (4)
Roman Outskirts – Brick Kiln (3), Tile Factory (4)
Roman Sanitation – Thermae (4), Vigiles Urbani (4), Cloaca (4)
Iron
All Mines – Sluiced Mine (4)
Barbarian Artisans – Ironsmith (3), Iron Workshop (4)
Barbarian Enclosure – Large Herd (3), Stables (3)
Hellenic Military – Blacksmith (2), Foundry (3)
Roman City Centre – Gladiator School (3)
Roman Military – Blacksmith (2), Fabrica (3), Auxiliary Barracks (3), Auxiliary Garrison (4)
Warhorse
All Warhorse Breeders – Level 2, 3 and 4
All City Centres – Warhorse Pens (2), Warhorse Breeder (3), Warhorse Ranch (4)
Barbarian Enclosure – Horse Ranch (4), Royal Herd (4)
Eastern Military – Nisean Stables (4)
Hellenic Military Buff – Hippeis Stables (4)
Roman Military Buff – Basilica Exercitoria (4)
Grain
All Horse Regions – Level 3 and 4
Barbarian City Centre – Storage Pit (2), Public Market (3)
Barbarian Enclosure – Cattle Ranch (4), Yurt Maker (4)
Eastern City Centre – Eastern Bazaar (3), Storage Pit (2)
Easter Military – Animal Trader (3)
Hellenic City Centre – Makra Stoa (3), Storage Pit (2)
Hellenic Military Buff – Horse Corral (3)
Hellenic Outskirts – Cattle Ranch (4), Ranch (4)
Hellenic Port – Trading Port (3), Emporion (4)
Roman Military Buff – Veterinary (3)
Roman City Centre – Storage Pit (2)
Roman Outskirts – Cattle Ranch (4)
Gold
Barbarian Artisans – Goldsmith (2), Mint (3), Jewelsmith (4)
Eastern Region – All Major and Minor Cities Level 4 (other than horse/salt resource nodes)
Eastern City Centre – Eastern Satrap's Palace (3), Eastern Royal Palace (4)
Seleucid City Centre – Satrap's Palace (3), Satrap's Great Palace (4)
Glass
Eastern City Centre – Eastern Clay Tablet Archives (3), Eastern Danesgah (4)
Roman City Centre – Archives (3), Scriptorium (4)
Roman Outskirts – Amphora Factory (4)
Fish
All Salt Regions – Level 4
Barbarian City Centre – Tavern (3)
Hellenic City Centre – Inn (3)
Copper
Barbarian Artisans – Bronze Forge (3), Bronze Furnace (4)
Eastern Military – Blacksmith (2), Weaponsmith (3), Royal Stables (3)
Hellenic Military – Shieldmaker (2), Armourer (3), Hoplite Barracks (3), Royal Barracks (4)
Roman Military – Shieldmaker (2), Armourer (3), Cohort Barracks (3), Legion Barracks (4)